We have recently established a North West network for pharmacy staff with an interest in genomics, so if you are interested in joining or would like more information then please contact us by email to: contactus@nw-gmsa.nhs.uk
We will be launching a Forum for the North West Genomics Pharmacy Network on NHS Futures in the near future. More details to follow in due course.
Below are links to education and training resources, including Health Education England's Genomic Education Programme.
The Pharmacogenetics Roll Out – Gauging Response to Service [PROGRESS] programme is an NHS England (NHS-E) Funded transformation project led by researchers at the NHS Manchester University NHS Foundation Trust (MFT) and the NHS NW Genomic Medicine Service Alliance (NWGMSA), to investigate the feasibility of delivering pre-emptive pharmacogenetic panel testing in primary care in the NHS
It has been split into three distinct work packages, each of which deals with a different aspect of the programme.
Pharmacogenetics describes how we can leverage knowledge of an individual's genetic information to support medicines optimisation, better-informing medicine selection and dosing.
Work Package 1 has focussed on the validation of the pharmacogenetic testing technology, involving a lab scientist at the NHS NW Genomic Laboratory Hub (NWGLH) assessing a number of commercially available pharmacogenetic panels to determine the appropriate choice for the clinical trial, based on factors including the robustness of testing, cost and turnaround time.
In work Package 2 we have worked with health informaticians and digital experts to run a series of workshops with primary care doctors and pharmacists to develop an informatic solution that can communicate the results of the pharmacogenetic testing from the NWGLH to the primary care team. Initially, this will be through a standalone interface that GPs and Pharmacists will need to log in to when they are informed that their patients' results are back, but later our aim is to deliver that result directly into the EPR system used in the practice, e.g., EMIS or System One.
Work Package 3 is the PROGRESS Clinical Trial, a portfolio-adopted study, which will test the feasibility of delivering these pharmacogenetic results for real patients in primary care in the NHS and provide genotype-guided prescribing. Phase 1 of the PROGRESS Clinical Trial will initially begin at five primary care networks (PCNs) in the North West of England. Recruitment will open in Spring 2023.
Patients who are being seen for a new prescription of one of the following classes of medicines will be invited to participate in the study: selective serotonin reuptake inhibitors (SSRIs), tricyclic antidepressants (TCAs), statins or proton pump inhibitors (PPIs). They would then provide a blood sample which is sent to the NWGLH for testing and the results will be returned to the primary care team in 7 to 10 working days. The patient's own primary care team will then be able to incorporate this guidance to inform the patient's prescription.

For example, the patient may have attended with low mood and a prescription of citalopram was considered. If their pharmacogenetic results show that they are a CYP2C19 ultrarapid metabolsior, the system would recommend an alternative antidepressant which is more likely to be efficacious.
This will generate some useful evidence around the feasibility of delivery in primary care and the aim is to scale during 2023 to an extended national pilot with additional practices from other GMSA regions across England. Ultimately this will feed into national commissioning decisions about how we implement pharmacogenetics in the NHS
For further information, contact the team at: contactus@nw-gmsa.nhs.uk
In each newsletter, we will use the Genomics in Practice section to highlight the role of a North West pharmacist who uses genomics in their practice to the benefit of their patients.
In the September 2022 edition, Michael Dooney, the Adult Cystic Fibrosis (CF) Pharmacist based in Blackpool, tells us how genomic testing is used within their service.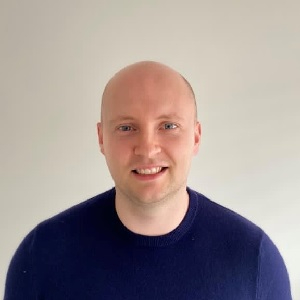 ---
Nowadays people are typically, although not exclusively, diagnosed with CF via the NHS new-born screening programme. Before the inception of the national screening programme failure to thrive, loose oily stools and recurrent chest infections in children were presentations that were potentially indicative of CF and resulted in referral for testing. Those who screen as potentially having CF through the immunoreactive trypsin test have their blood spot sent for genetic testing to look for variants in the CFTR gene and are referred for a sweat test. The CFTR protein is responsible for chloride and bicarbonate transport across epithelial surfaces in the airway, gastrointestinal and reproductive tracts, pancreas, and sweat glands. Genetic changes in the CFTR protein can lead to an absence or reduction in the quantity or function of CFTR, or both. This dysfunctional anion transport results in viscous mucus secretions, that are characteristic of CF, and multiorgan dysfunction, including pancreatic insufficiency and airway infection and obstruction. Chronic airway infection leads to progressive lung damage and eventually respiratory failure.
Traditionally medical management has been based on the treatment of the downstream effects of CF, i.e., symptom management. This resulted in a high burden of care which included: high use of oral and nebulised antibiotics, nebulised mucolytics, bronchodilators, daily airway clearance therapy, pancreatic enzymes, fat soluble vitamin supplements amongst many others and multiple admissions for rescue treatment with IV antibiotics. Whilst great strides have been made in the medical management of CF over the years it was reported in 2018 that approximately half of those born with CF born that year were expected to live into at least their mid-40s.
In 2013 a new, first of its kind, treatment for CF was made available through the NHS called ivacaftor (Kalydeco®). This treatment, a CFTR modulator, was revolutionary in that it was the first treatment that targeted the genetic problem of CF at a protein level rather than the sequelae of CF. It helped to restore CFTR protein functionality to enough of a degree to produce some dramatic results. In trials participants saw significant improvements in lung function, the need for both oral and IV antibiotics reduced due to reductions in pulmonary exacerbations, as well as improvements in quality-of-life scores. It is a truly life changing drug. Sadly, it was only effective for approximately 4.5% of the CF population of the UK due to the prevalence of the mutations it was effective for in the country. Therefore, it was only prescribed for individuals with one copy of the following mutations: G551D, G1244E, G1349D, G178R, G551S, S1251N, S1255P, S549N or S549R
New CFTR modulators, tezacaftor/ivacaftor (Symkevi®) and lumacaftor/ivacaftor (Orkambi®), became available in 2019 that were targeted at a wider range of the CF population. These were approved for use in those with CF who were homozygous for the F508del mutation, which is the most common CF genotype. This meant that it could be prescribed for approximately 50% of the CF population in the UK. It also provided similar health benefits to ivacaftor in that it improved lung function, reduced need for antibiotics due to pulmonary exacerbations of CF and improved quality of life scores but the improvements were not as drastic as they were for ivacaftor in those with the gating mutations listed earlier. However, it represented a significant step forward in the care of those with 2 copies of the F508del mutation.
Then in 2020 elexacaftor/tezacaftor/ivacaftor (Kaftrio®) was approved for use in the NHS for those with one copy of the F508del mutation, which represented approximately 90% of the CF population. This drug has truly revolutionised CF care as it has brought dramatic ivacaftor for gating mutations-like improvements in lung function, exacerbation reduction and improvements in quality of life to the masses. There are numerous life changing stories due to the effect Kaftrio® on the lives of those with CF who can benefit from his treatment and the outlook for the future has never looked so bright for those who fit these genetic criteria with life expectancy greatly improved, if yet unquantifiable due to the newness of these treatments resulting in this data not currently being available.
Genetic testing provided by the NW Genomic Laboratory Hub, as per criteria set out in the National Genomic Test Directory, gives information about the exact type of variant in the individual patient. This information was critical in helping us to identify those patients who are eligible for these life changing treatments. As the adult CF lead pharmacist, I have been responsible for checking all the genetic reports for our population to ensure they are on the most effective treatment available and rechecking eligibility for treatments as new combinations of CFTR modulators have been approved. The use of drugs informed by genomics has drastically improved the care of those with CF.
Without a doubt it has been one of the biggest steps forwards in the medical management in the history of CF, if not the biggest.
We are now looking to further incorporate genomics into our practice on the back of the success of the rollout of CFTR modulators by testing for genetic sensitivity to aminoglycoside-induced hearing loss by screening for the m.1555A>G mitochondrial mutation in our population.
---
Health Education England's Genomic Education Programme offers a comprehensive range of education and training materials for professionals across multiple areas of practice.
The Centre for Pharmacy Postgraduate Education (CPPE) is part of the Division of Pharmacy and Optometry, within the Faculty of Biology, Medicine and Health at the University of Manchester, and provides an introduction to genomics as a resource.
The CPPE has a Genomics landing page with an introductory programme and signposting to other useful resources.
https://www.cppe.ac.uk/gateway/genomics
The Royal Pharmaceutical society have issued a position statement on the role of pharmacists in the pharmacogenomics revolution. Read more here.
GeNotes is a just in time resource to help healthcare professionals make the right genomic decisions at each stage of a clinical pathway- currently a beta test site for Health Education England's GeNotes for Oncology.
The UK Network was set up (and is chaired) by Professor Sir Munir Pirmohamed in 2010 to develop research collaborations, between academics, clinicians, industry, and regulatory sectors.
The aim of these partnerships is to promote the use of stratified/personalised medicine in the clinic, to offer patients the most appropriate and safe drug, at the optimal dose, at the start of their treatment. Their website is a valuable resource providing information on how the field is progressing.
Acknowledgements: Health Education England's Genomic Education Programme, Health Education England, UK Pharmacogenetics & Stratified Medicine Network, CPPE, and The Royal Pharmaceutical Society.