Lynch Syndrome Genetic Testing Pathway
The NHS now has a national genomic laboratory service delivered through seven regional Genomic Laboratory Hubs (GLHs) which will support the delivery of the new National Genetic Test Directory. Since 2017, the National Institute for Health and Care Excellence (NICE) has recommended that all people with colorectal cancer are tested for Lynch syndrome using Immunohistochemistry (IHC) or Microsatellite Instability (MSI) testing (DG27).
In October 2020, NICE also recommended testing for Lynch syndrome in people who are diagnosed with endometrial cancer using immunohistochemistry (IHC) (DG42)
The Lynch syndrome genetic testing pathway will improve standardisation of genomic testing and ensure equity of access for patients diagnosed with colorectal and endometrial cancer in the North West Genomic Service Alliance (NW GMSA).
The National Genomic Test Directory for solid tumours and rare/inherited disease went live on the 1st April 2021. The directory specifies which genomic tests are commissioned by the NHS in England, the technology of the test and the patients who will be eligible to access a test.
Following the launch of the National Test Directory, local multidisciplinary teams are now able to request genetic testing for eligible patients diagnosed with colorectal and endometrial cancer. This will enable quicker diagnosis for patients and support timely treatment planning.
Relevant useful links are shown below.
Part 1 features presentations from Dr Kevin Monahan, Dr Fiona Lalloo, Professor Emma Crosbie, and Professor James Hill.
Part 2 features Mandy Darbyshire and the MDT discussion.
This toolkit has been developed as a North West regional protocol to support the implementation of the new process. Click the links below to access these documents.
The latest version of the documents is available below:
.
https://www.genomicseducation.hee.nhs.uk/education
NB: For counselling education videos 1,3 & 4 recommended
Let's Talk about Communication Strategies (3 minutes)

Let's Talk about Incidental Findings (2 minutes)

Let's Talk about Possible Results (3 minutes)

Let's Talk about The Impact on Families (2 minutes)
What causes Lynch Syndrome?
The faults (pathogenic variants) in an individual's DNA that cause Lynch syndrome are relatively common. It is estimated that it affects up to 1 in 300 individuals The variants can happen in one of four mismatch repair (MMR) genes, called MLH1, MSH2, MSH6, and PMS2. Pathogenic variants in a fifth gene called EPCAM, are relatively rare but can also cause Lynch syndrome.
---
Is Lynch syndrome a commonly inherited form of cancer?
Lynch syndrome can run in families, from one generation to the next, and is the most common inherited form of colorectal cancer. It was previously called hereditary non-polyposis colorectal cancer (HNPCC).
If a parent has Lynch syndrome caused by a variant in one of the mismatch repair genes, each child has a 50% chance of inheriting Lynch syndrome.
---
Do all pathogenic variants in Lynch Syndrome genes lead to cancer?
No. Lynch syndrome does not always lead to or cause cancer, but the inherited genetic change that causes Lynch syndrome increases a person's lifetime risk of developing colorectal cancer (by up to 70%). The risk of developing cancer from Lynch syndrome depends on the gene in which there is a variant. The risks associated with variants in PMS2 are much lower than the risks associated with variants in MLH1.
---
Is colorectal cancer inherited?
Most cancer is not an inherited illness. Colorectal cancer is common, affecting about one in 14 men and one in 19 women at some point during their life, more commonly after the age of 60. It is not unusual to have a relative who has been affected by colorectal cancer, but colorectal cancer is usually sporadic or "out of the blue"
The variant in an individual's genes is the underlying cause for about 5–10% (5 to 10 in 100) of colorectal cancers. Mismatch repair gene variants do not cause cancer to occur on its own; the risk increases because of an individual's cells' ability to repair damage to their DNA, affected by changes in their genes.
---
What causes cells to change into cancerous cells?
A build-up of damage to DNA means that cells do not repair themselves properly. This leads to abnormal growth and the development of cancer.
---
Why are the MLH1, MSH2, MSH6, and PMS2 genes so important?
Cells, the basic building blocks of our bodies, grow through a process called mitosis. In this process, cells divide and replace themselves. There are several processes within the cell that ensure that DNA is replicated accurately.
The genes MLH1, MSH2, MSH6, and PMS2 play a vital role in one of these processes. If the DNA is not replicated properly (mismatches), MLH1, MSH2, MSH6 and PMS2 work together to "repair" the abnormality.
A pathogenic variant in one of the MMR genes means that this process will not work properly. This leads to an accumulation of DNA damage, abnormal growth, and cancer.
---
What should I do for individuals will present with concerns about a family history of Lynch syndrome spectrum cancers?
If you believe that your patient may be at risk of developing Lynch syndrome i.e., a strong family history of cancer or family members diagnosed with cancer before the age of 50, then you should recommend that your patient agrees to a referral for genetic testing and genetic counselling. This process supports the development of a family tree so that associated risks for other family members can be identified.
Genetic counselling and testing for Lynch syndrome may be appropriate for patients who meet the following criteria:
Diagnosed with colorectal or endometrial cancer (before age 50 for both cancers)

Several family members with colorectal, endometrial, or other cancers associated with Lynch syndrome
---
What should I do if I believe my patient may have Lynch syndrome?
The national Lynch project's aim is to test every patient who develops bowel or endometrial cancer for Lynch syndrome; there are pathways for those individuals diagnosed with cancer, and those with a family history of cancer.
Patients with diagnosed cancer should have further testing (immunohistochemistry, or IHC) to inform the appropriate diagnostic pathway.
Those with a family history of cancer should be directed to the regional genetics' units for counselling and identification of at-risk family members. Genetic counselling helps patients, and their families better understand their risk for hereditary cancer in order that they can make informed decisions about screening, genetic testing, and follow-on care.
---
Produced July 2022
---
Testing algorithms
Testing for Lynch syndrome using IHC. NB: BRAF V600E testing is not used in the endometrial pathway.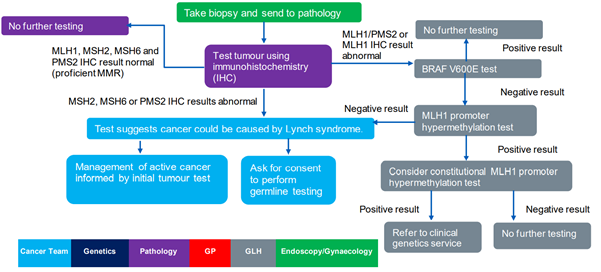 Testing algorithm (MSI): testing for Lynch syndrome using MSI.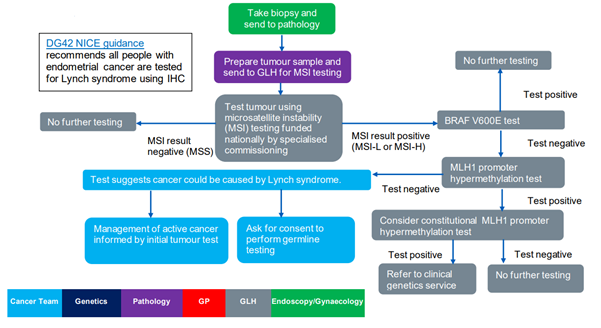 Testing algorithm (germline): germline testing following either IHC or MSI testing.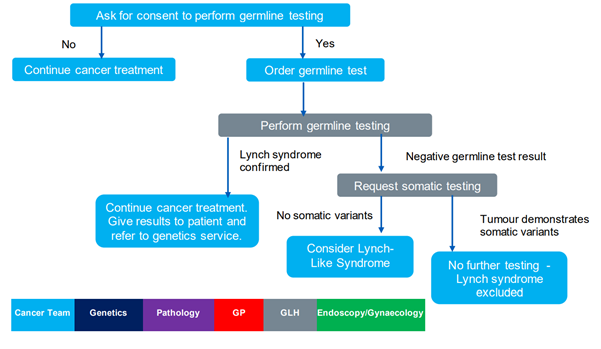 This suite of resources has been prepared in collaboration between the NHS North West Genomic Service Alliance, the regional NHS Genomic Laboratory Hub, and the Cancer Alliances in South Cumbria and Lancashire, Cheshire and Mersey, Greater Manchester, and West London.
Acknowledgement and thank you
Some of the content and links provided on this page have been sourced and reproduced from the following organisations:
National Institute for Health and Care Excellence (NICE)
NHS Genomic Medicine Service and National Genomic Test Directory
Health Education England's Genomics Education Programme
MacMillan Cancer Support
RM Partners - West London Cancer Alliance
Manchester University NHS Foundation Trust
Eve Appeal
Bowel Cancer UK
St. Mark's Hospital and Academic Institute
Liverpool Women's NHS Foundation Trust
Liverpool Centre for Genomic Medicine
Manchester Centre for Genomic Medicine
NHS North West Genomic Laboratory Hub
For further information or questions regarding this pathway or the resources available, please contact Professor James Hill Deputy Clinical Director, NHS North West Genomic Medicine Service Alliance.