This resources page aims to support Trusts to access training and information about monogenic diabetes and improve the management of MODY.
Monogenic diabetes or MODY are terms to describe a group of conditions with an autosomal dominant inheritance pattern. This means inheriting a single copy of an affected gene will cause the patient to inherit the same type of diabetes as their parent.
Aims:
Improvements in the rates of identification by trust

Increase in referral rates

Increase in numbers of staff trained
MODY is an abbreviation of Maturity Onset Diabetes of the Young and includes a group of genetic disorders where something is wrong with the way in which the patient manages insulin, leading to diabetes.

These conditions are strongly inherited, you only need one MODY gene (instead of a gene pair) to show signs of the condition, in an inheritance pattern called autosomal dominance.

If you have MODY you have a 50% chance of passing it on to each of your children.
Why do midwives need to know about?
Several of the different MODY types are associated with problems in pregnancy.

Each subtype does something a bit different, so there is more information about each type below
What do midwives need to do about it?
Be aware these conditions exist

At booking, if the expectant mother or father has diabetes in the family ask what type it is.

If they tell you they (either parent) have MODY in the family, ask which type, and refer all patients to you local diabetes ANC for review within the next couple of weeks

Depending on which MODY type, the mother and baby may need extra growth scans, a planned NICU bed or blood glucose monitoring.

The families need special MODY tests in pregnancy where maternal blood can be taken to screen for baby genotype to work out risks. The Diabetes team will help work out if this is needed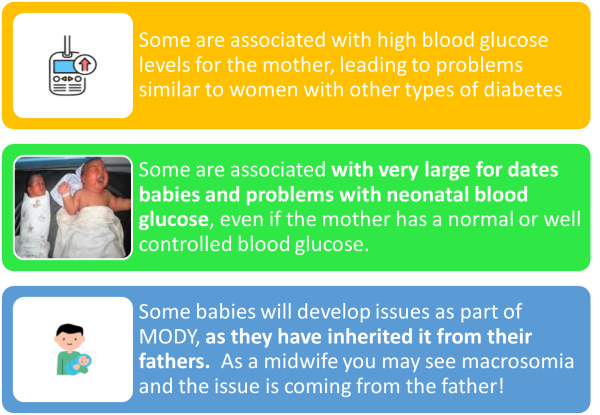 Family testing for MODY patients (cascade testing)
As all forms of MODY are inherited in an autosomal dominant manner, family members of your patient who has diabetes may also have MODY.
Who needs to be tested?
Any blood-related family member with Diabetes Mellitus

Other family members can have HbA1c testing as a screening test before going on to get genetic testing

Children are usually not tested until they are old enough to understand the testing (generally after 16 years of age). Most forms of MODY do not manifest issues for children, with patients only developing glucose-handling problems in adolescence or adulthood. Neonatal diabetes, although autosomal dominant, is often a de novo mutation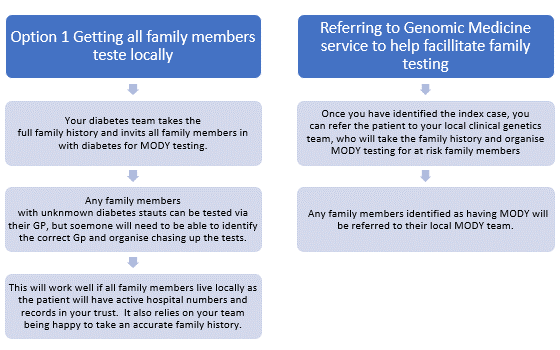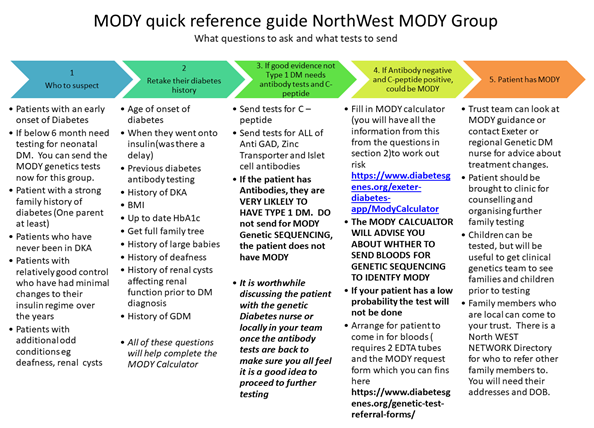 Acknowledgement: DiabetesGenes and the NHS Royal Devon University Healthcare NHS Foundation Trust